Nurburgring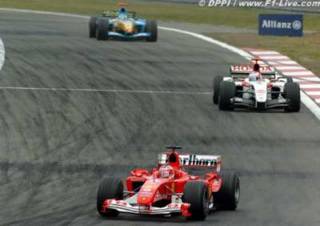 He did it again. No one can compare to him when he is at his best. Michael Schumacher & his Ferrari are the best combination in F1 that I have seen in my few years of watching.

It's really fun to watch FIA keep changing the rules again & again and try to stop the Ferrari domination. Last year, they introduced one-shot qualifying. This year, they changed the format & are about to do it again. They introduced traction-control & launch-control and now they're planning to make F1 low-tech by using manual gear shifts. Who knows what they will come up with next. Nothing seems to stop Ferrari & Michael from winning though.

What I dearly want to see is Michael driving in a Minardi. Yeah, a Minardi. After his contract with Ferrari ends in 2006, he should drive with Minardi for a year. It'll be really fun to watch him struggling for a change. Don't get me wrong, he's my favourite driver. But even I'm sometimes saturated with all his victories. And this will definitely give Minardi a boost, getting all that sponsor money.

On the other hand, Raikkonen again had an engine blowout. When will Mclaren give that poor bloke a car that will run for one complete race distance? And the saga of Williams cars crashing continued. So, business as usual.