Now I can truthfully say that I am not bored. Who can be bored when there is so much to do? Currently I'm engaged in 3 major activities:

Reading: I'm re-reading Nineteen Eighty-Four right now. And I can honestly say that this is the scariest book I've ever read. The book is not a horror story, I laugh at the face of such books. Something about this book gets in me and makes me squirm. You see, as I read any book, I usually imagine myself as being in it, but 1984's world is too horrific to imagine. I've read lots of stuff, some Stephen King, a lot of Anne Rice, and many other horror stories that I don't remember; but I know I was never scared while reading that. Reading 1984 is a gut-wrenching experience for me, but I love it for that. It makes me want to get off my ass and do something about the world, which in itself is a miracle.

Rendering: I've been playing around with Apophysis even more lately. Check out my best render so far, I call it Growth.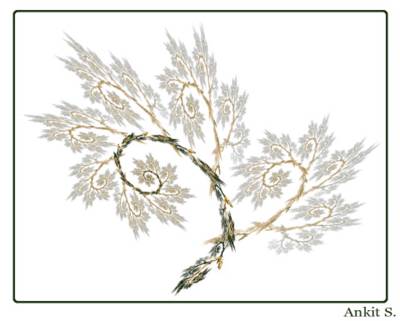 I even registered on DeviantArt and uploaded some of these.

Learning: I've actually started to learn some Python. I'm at the fifth chapter of Dive into Python right now.

Along with this, there is a lot of other stuff. There are movies to watch, TV shows to keep track of, music to listen to... If I get bored of something, I can just switch the current activity. Ahh, life is fun right now.